Desk Day - August 2022 - Sewing
Happy Desk Day! In all reality, I believe desk day was meant to be this past Friday based on the ridiculous rules my friend group made up based on a bunch of coincidences, but it's fine. I'm going to do Desk Day today because I said so.
This month, I'll be showing off my sewing desk. It's a gorgeous antique kidney-shaped desk with a total of seven drawers–don't let the bottom pair fool you, they're double height. It's beaten up but it has a lot of character. My parents found it on the the side of the road with a "FREE" sign on it. They grabbed it for me, and held it in their attic until I could drive it home! When I was cleaning it up a few months later, I was surprised with the discovery of three little trinkets from previous owners. Two are pictured here but the third needs to stay private as it is a pad of vintage return address labels for the previous owner. After a little digging, I found out that she had passed away quite a while ago, but that in her lifetime, she was married to a furniture mogul! Not the same mogul who produced the desk, as far as I could tell, but a small world either way. The chair was picked up from a local thrift store. I'm not sure how old it is and I can't even do detailed research to find out; there's no maker's mark anywhere on it! But it's comfortable for being wooden and sturdy!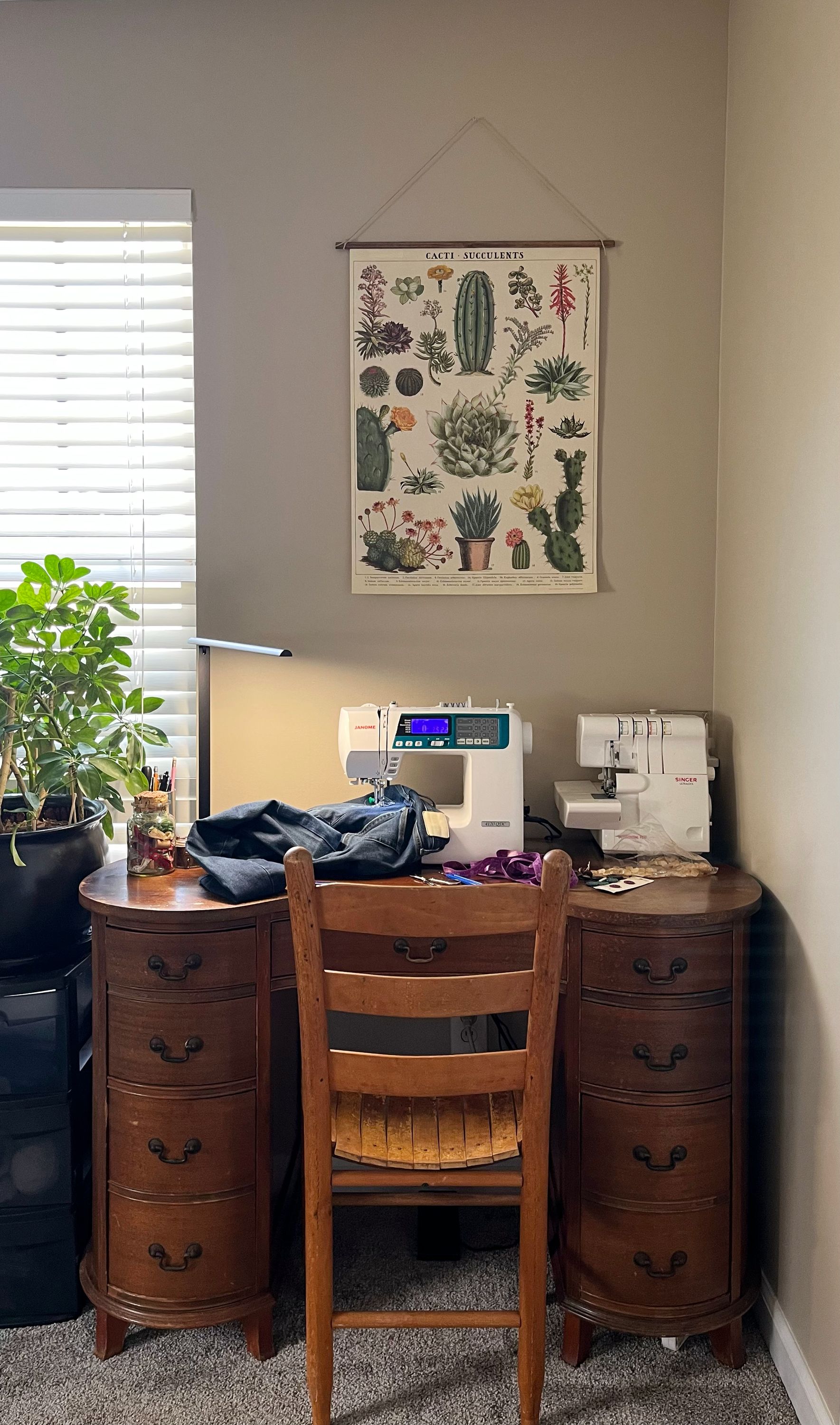 My sewing desk, mid jeans repair
The succulent wall hanging is something my partner and I picked up from a local eclectic store and it really fits in with the whole office aesthetic of "plants, plants, and more plants." My main sewing machine is a Janome. I'm currently working mending a small hole that appeared in my jeans, which is why the desk is a bit messy. In the corner, I've got my Singer serger. I don't use it often yet–not worked up the courage to work with knit fabric — but I did give it a good clean when I got it off of craigslist. I changed out the blade and needles for good measure, too. Some of my sewing friends hadn't even known that was possible!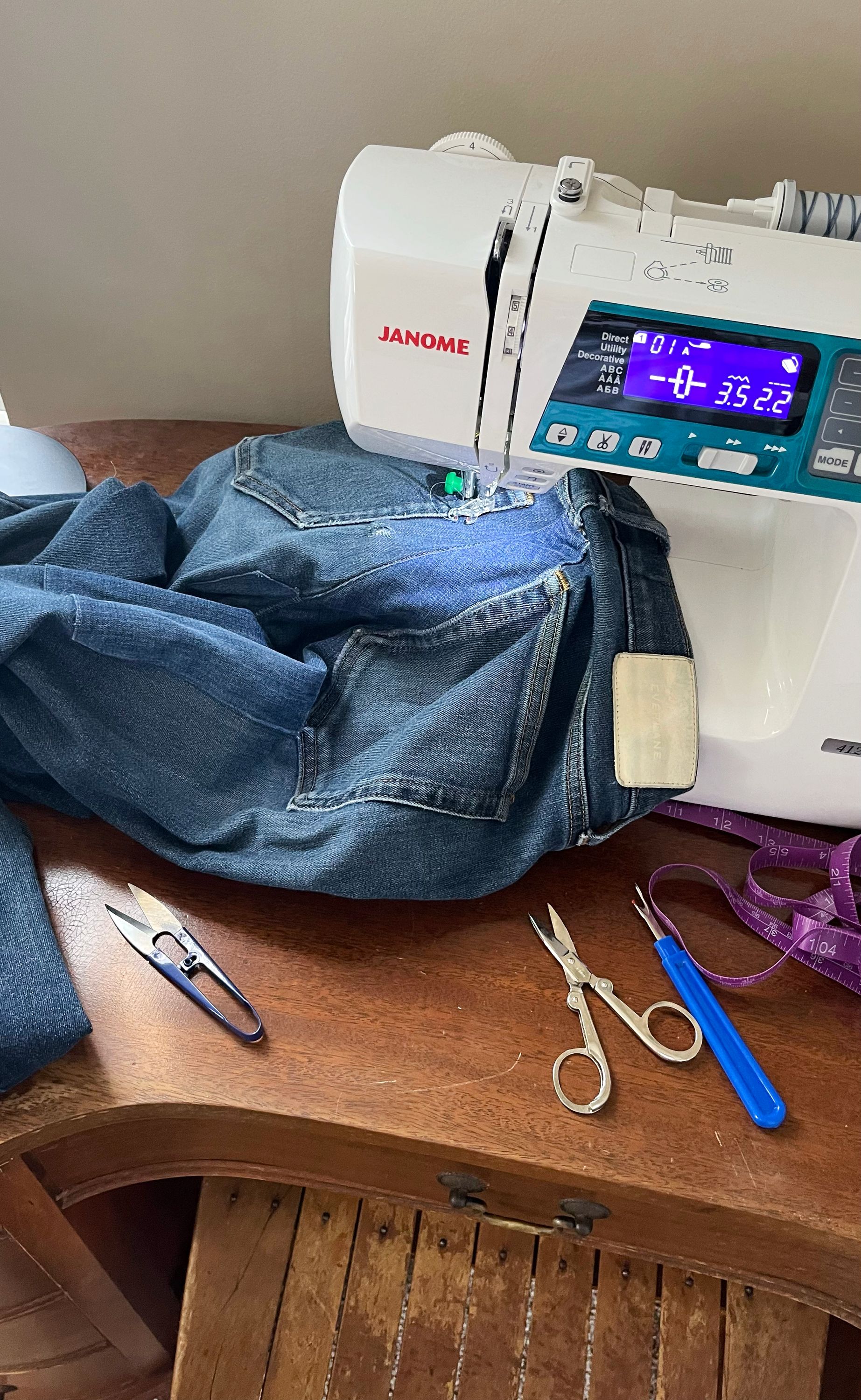 Mending the hold next to the pocked on these jeans, playing a bit of thread-chicken with the top spool.
When I'm sewing, I've usually got a pair of snips, a pair of scissors, a seam ripped, and some kind of measuring device out on the desk. Why I went with the flexible measuring tape today and not the hem gauge, I have no idea, but the scissors are delightful, as they fold up to be the size of a small altoid container. They need a bit of sharpening, but I love them for the quick cuts I need to make when I'm mending.
Off to my left, I've got a repurposed tea-canister full of pens, pencils, and tools, and a lovely cork-lidded jar full of ribbon and yarn scraps! It's getting full now, so I may need to come up with a plan for some of those notions, and I think one of those plans might involve the brass box I've left out. On the bottom of the box is a sticker that labels it a pin cushion. At the moment it's empty, which means the cushion was pulled out at some point, but there's nothing stopping me from putting one back in. It's either that or making a stylist mending kit to pop into a purse or using it as decor forevermore. We'll see!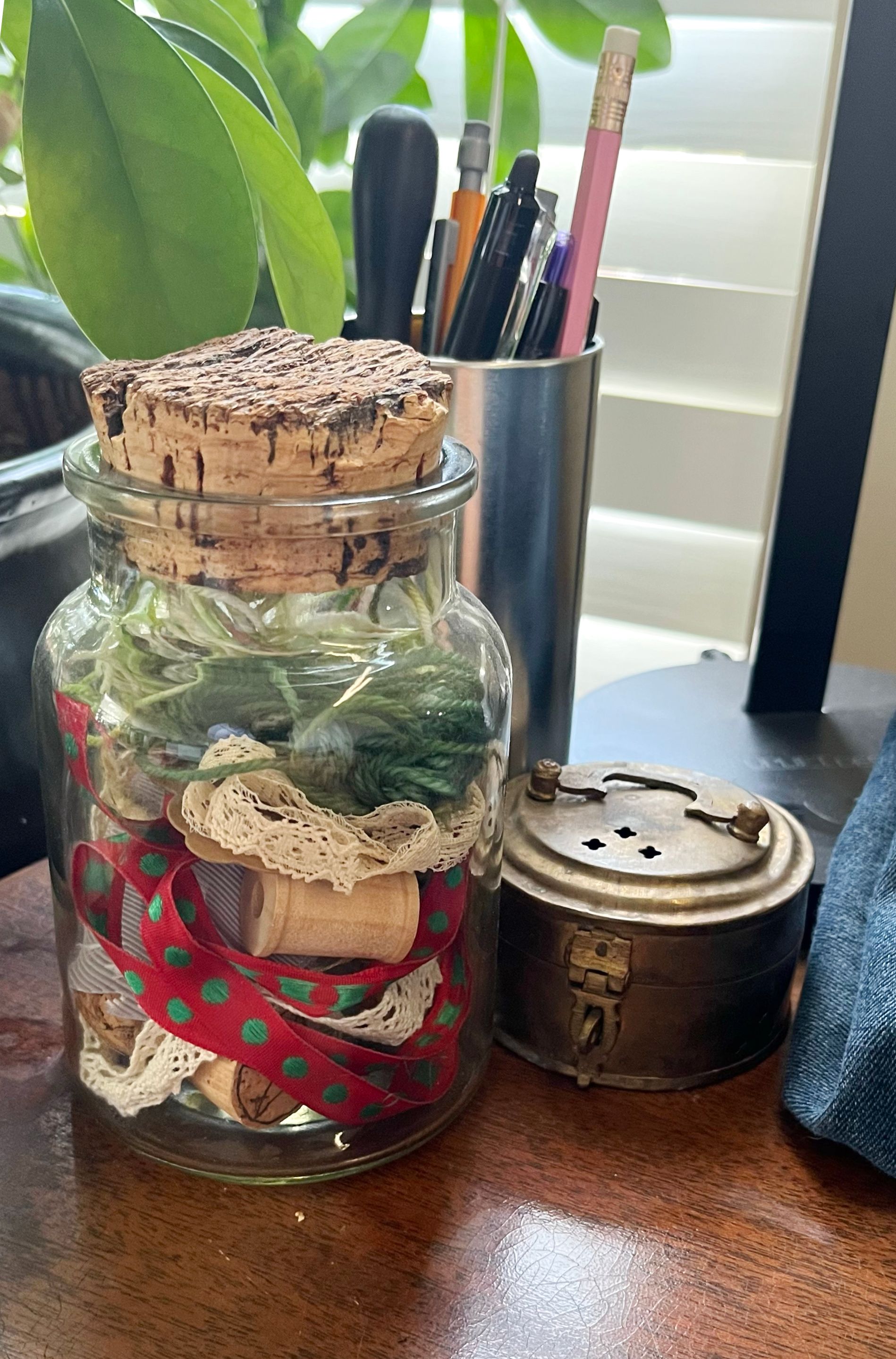 My notions jar, writing instruments, and a possible pin cushion project.
Given that I'm a visual person, I pulled out all the buttons in my notion stash the other day to try to imagine using them, especially as I'm trying to think of some sewing projects I could tackle. There are some incredible bakelite options, as well as the plastic we're used to, but every single button in that collection was picked out from a vintage or antique store. They're so adorable and detailed that I just couldn't pass them up when I saw them. The white ones are all different as well, meaning there are endless opportunities for fun with them. The lone white & black patterned one is really calling to me today, so maybe I'll think about some kind of blouse that only needs one closure. And when I decide, I can pop a label into the collar that declares the blouse "me made."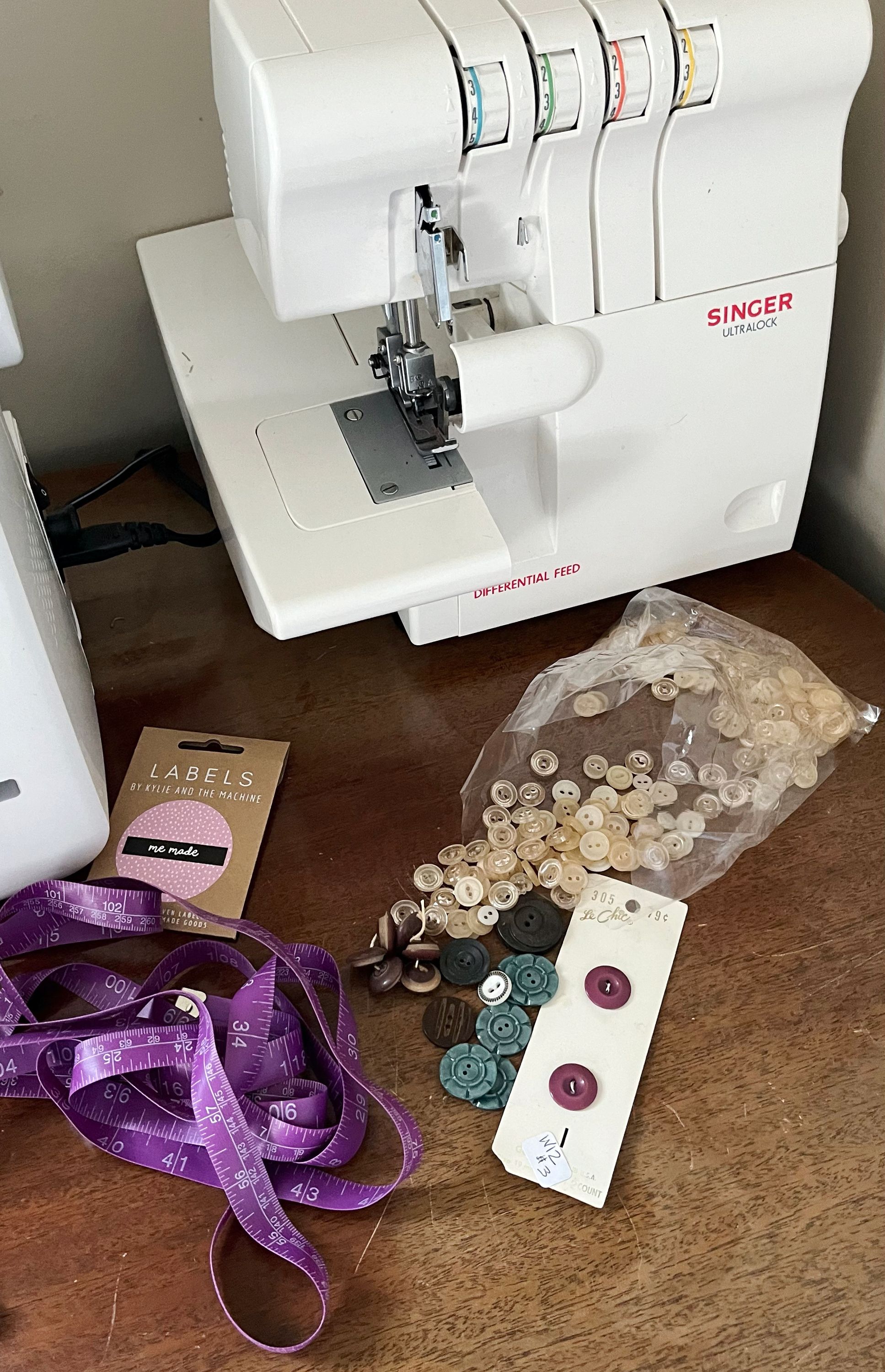 So many buttons, so few ideas at the moment.
Overall, I love sitting and creating at this little desk. I have a bigger craft table–the subject of a future desk day post–for cutting fabric and drafting, which is certainly necessary, but when it's time to sit and sew, there's something so special about doing it in the soft-lit corner on a desk that's had multiple homes in a chair that has been worn down to comfort.
15 August 2022 desk-day office-organization
---
Previous post
Sprinting to the Finish Line
Last week, I opted to use the single week's worth of buffer I'd built into my blog posting routine to take a step back from blog writing. I did this
Next post
Validation & Writing
I wrote a book! I don't know if I've given any details or whether the project code name was made public at any point, but I wrote a novel! I know I